I was extremely excited when I was granted a media pass for New Orleans Fashion Week! This was my first New Orleans Fashion Week, so I was looking forward to seeing what it was all about. I attended three events. The first was the Kick Off Party at the W Hotel in the French Quarter. The atmosphere and vibe was super cool. It was great to be amongst other fashion lovers.
Dress : Rue21
The second event was Up Close and Personal with Pedram Couture at Café Adelaide! Predram is well-known for his wedding dresses and red carpet looks. He's dressed many celebrities; Ashanti, KeKe Palmer, Teyonah Parris, and Christina Milian just to name a few. I also got to meet the Tracee Dundas who's the Creative Director of New Orleans Fashion Week. See photos below: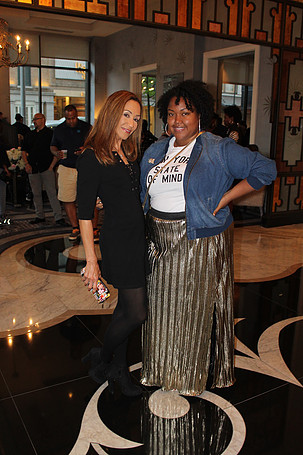 Tracee Dundas Creative Director
The Finale Show took place at the Civic Theatre. Models ripped the runway wearing some of New Orleans' top designers and retailers. My top standout designers were Clinton Whitney Downingand De'Andre' Beverly.
Overall I enjoyed my Fashion Week experience and I am definitely looking forward to next year.